Video Library
Faculty Video Library opens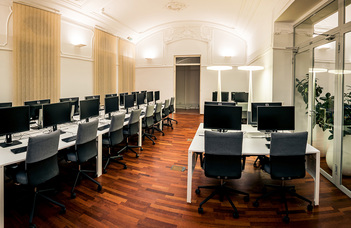 50 computers await students to watch recordings of lectures and seminars at the Faculty of Economics Video Library on the ground floor of Building R.
The Video Library is open from 9:45 to 19:15 on weekdays and between 9:45 and 17:15 on Saturdays. The Library offers recordings of past Bachelor lectures and seminars of the semester, as well as videos of Master's seminars, which are otherwise not available in Moodle.
To view the videos, students book a computer station in advance using their IIG ID. Log in to https://inform.gtk.elte.hu/ and go to "Video Library". The Video library Privacy Notice is accessible with your institutional email address here.
Students will need to bring along their own 3.5mm jack earphones to follow the audio of the videos. If you have a different type of earphone/headset, please remember to also have a suitable adapter with you.
In addition to the 50 computers for video viewing, a further 20 desks are also available for quiet work, the latter without advance reservation. Please use the study areas in Building Q if you want to discuss matters with your fellow students as this is a strictly no-talk study space