Prospective Students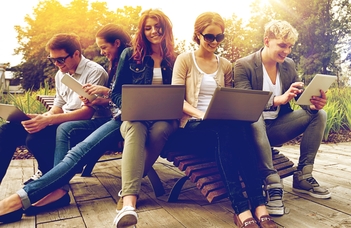 Greetings from the International Office team of the Faculty of Economics of Eötvös Loránd University (ELTE GTK), Budapest.
This page contains information on long-term and short-term opportunities for international students who would like to study at our Faculty.
OPPORTUNITIES TO STUDY AT ELTE GTK
International students can study at ELTE Faculty of Economics either as full degree students (7 or 8 semesters) on the English-language undergraduate degree programmes offered by the Faculty or as short-term visiting or exchange students (1-2 semesters).
If you belong to the former group and would like to earn a bachelor's degree at ELTE GTK, read the details under FULL DEGREE STUDENTS. Allow the overview of our academic environment and the details of our English-language bachelor's programmes persuade you to apply to our Faculty. Allow us also to guide you through the application requirements and processes.
If, on the other hand, you wish to study at our Faculty for just one or two semesters, go directly to the ERASMUS+ AND GUEST STUDENTS section to learn more about such important matters as exchange opportunities, ELTE GTK's course offer for short-term visitors, pre- and after-arrival tasks, and much more. You will also find valuable information in this section if you are an exchange student at another ELTE faculty and wish to study some courses at the Faculty of Economics.
If you have not reached a decision on your future yet but would like to get a taste of what it is like to study at ELTE GTK, you are invited to participate in our one-week Business Economics Summer University (BESU) in mid-July. Familiarise yourself with the wide variety of our courses and the practical details on the dedicated page here.
PROMOTIONAL LINKS
All prospective students are invited to watch two short videos introducing our Faculty and to read our Fact Sheet and Programme and Course Guide. Follow us on FB, Instagram, and TikTok, and listen to our podcasts, as well.
CONTACTS FOR INTERNATIONAL STUDENTS
Check the Contact page for detailed information on email addresses and office hours.