Master's Programmes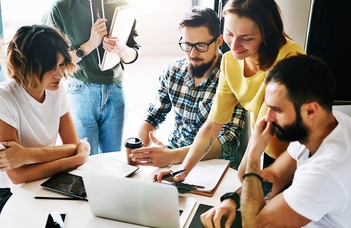 The Faculty of Economics of Eötvös Loránd University (ELTE GTK) currently offers no English-language master's programmes. More information on the Hungarian MA programmes is available here.
WHY CHOOSE ELTE?
The university where you earn your (bachelor's and) master's degree may determine your whole future career and the degree you earn there will be considered as a life-long certificate of your accomplishment. A master's degree from the Faculty of Economics of Eötvös Loránd University (ELTE GTK) will undoubtably have a positive impression on your future employer due to the positive connotations attached to the Faculty and the University both in Hungary and worldwide. Further information.
The Faculty of Economics is the youngest of ELTE's faculties. In just a little more than five years since its establishment as an Institute (which became a Faculty in 2021), we have become a strong contender for being the No. 1 among Hungarian business and economics programmes and we are proud to be the single most sought-after School for Business Economics Master's training in Hungary. All five Hungarian-language master's programmes offered by the Faculty are market leaders in their fields and our MBA programme was the most popular programme in Hungary in 2020 and 2021.
The following factors, many of which also characterise our bachelor's programmes, contribute to the success of our master's education:
emphasis on the application of theory to practice and the development of soft and transversal skillsvaluable in the workplace.
training format alternatives: choose between full-time and part-time MA programmes to suit your current work and personal circumstances.
flexible workload to suit your learning habits: courses can be completed by either earning an offered grade during the teaching period (continuous study pattern) or by taking exams at the end of the semester (concentrated revision). Transferring earlier earned credits is also possible.
work-friendly weekly and daily timetable
modular class format allowing a concentrated elaboration of the material
availability of class recordings to prepare for assessments (Video Library and also online for MA students)
WHICH MASTER'S PROGRAMME TO CHOOSE?
Master's in Management and Organization – 5 specialisations
Master's in Finance – 3 specialisations
Master's in Accounting – 2 specialisations and ACCA accreditation for 6 subjects
Master's in Marketing
Master's in International Economy and Business
Master of Business Administration (MBA) – 3 specialisations
Master's programmes are currently offered only in Hungarian. If you wish to learn more about them (specialisations, programme specifics, course lists, etc.) follow this link.