International students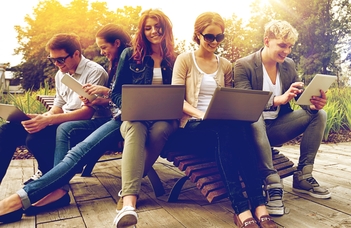 Greetings from the International Student and Academic Services team of the Faculty of Economics of Eötvös Loránd University, Budapest.
If your arrival to Hungary is due after 1 September 2020, you need exemption by the police based on an official equity request. Learn more
about the procedure here
.
If You are a non-Hungarian student, who wants to study in Hungary
If you want to study just one semester at our Faculty, or enroll to one of the degree programmes, please consult possible support schemes offered in the Erasmus+ programme (starting 2019), the Stipendium Hungaricum grants (starting 2020), and look for opportunities in your country of birth or residence.
Check the academic calendar to see the semesters, breaks and examination period, familiarize yourself with the courses and requirements. Please read carefully the "Practical matters" section on the university website where you can find all useful information that you need to know before you arrive in Budapest.
If you are a student from a non-EEA (European Economic Area) country, you need to obtain a residence permit for the purpose of studies. You need to submit the residence permit application and/or study visa at the Hungarian Consulate or at other locations authorized to receive residence permit applications which operates in the country of your permanent residence or nationality.
On our Facebook page (Eötvös Loránd University International) you can find more information about ELTE, including the latest news and events.
Contacts for International students
For correspondence please use the following emails:
Erasmus+ Outgoing students (outgoing@gtk.elte.hu)
Erasmus+ Incoming students (incoming@gtk.elte.hu)
English degree programme students (degreeprogramme@gtk.elte.hu)
Stipendium Hungaricum students (sh@gtk.elte.hu)
Summer University students (sumuni@gti.elte.hu)
Offices (make an appointment by sending an email first):
Student Affairs and Registrar's Office: H-1088 Budapest, Rákóczi út 7., Trefort kert, Building Q, Ground Floor (entrance from the University campus; email: th@gtk.elte.hu)
International Student and Academic Services: H-1088 Budapest, Rákóczi út 7., Trefort kert, Building Q, Staircase A, 4th Floor, Room 417. (email: see above)
Fact sheet for the academic year 2022/2023
Fact sheet for the academic year 2021/2022