Enrolment for new Erasmus+ and guest students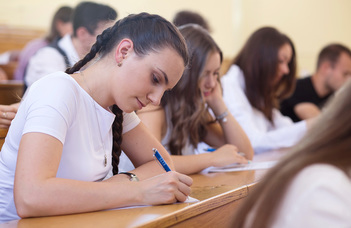 ELTE FE ENROLMENT SESSION - PRACTICAL INFORMATION
The ELTE Faculty of Economics enrolment event for new incoming Erasmus+ and guest students will be held in person.
Date and time: Friday, 24 February 2023 (9:00-13:00)
Venue: ELTE Astoria Campus, Building Q, Room 307
How to find Building Q?
Access Budapest's well-known intersection called Astoria on foot/by public transport (Metro 2, trams 47 and 49, buses 5, 7, 8E, 9, 108E, 110, 110E, 112, 133E, other main transportation hubs like Kálvin tér/Square and Deák tér/Square are only a short walk away).
Enter Astoria Campus from Múzeum körút/Museum Boulevard, proceed to Trefort garden. Look for a green iron gate on the left.
Enter ELTE FE/Building Q via the green gate. At the end of the corridor, turn right in the direction of the courtyard. Staircase A will be on your right.
Climb the stairs to the 3rd floor and find Room 307 (follow the signposts).
Map (Please scroll down to the bottom of the "Contact" page for the campus map. Note: Building R at Rákóczi út 5 will only open on Monday, 27 February. The historic main entrance to Building Q from Rákóczi út is restricted.)
The session consists of 3 parts:
Administrative matters: 9:00-10:00

data check: passport/ID
submit your university's documents
issue of Certificate of Student Status

Info session: Our Faculty, Courses, Classes, Timetable, Academic Expectations, Assessment, Practical Matters, etc.: 10:00-12:00
ELTE ESN presentation, Meet your mentor, and Campus Tour: 12:00-13:00
What to bring along?
PDF document with Neptun code and password attached to the email sent by ELTE FE at the beginning of February 2023. The document should be printed and signed in blue ink.
Personal documents: original AND two photocopies

EU citizens: original photo ID or passport.
Non-EU citizens: original passport and visa
Students with double citizenship / who are dual citizens: both original IDs/passports.

Your university's Certificate of Arrival (and possibly other home university documents). Ask your coordinator if your university requires any documents and in what format. If your university requires a hard copy, bring it along, and it will be completed, signed, and stamped by ELTE FE, and returned to you later. If you only need a soft copy, have it ready on your laptop/phone, and you will be asked to upload it in Moodle (instructions will be given). The signed and stamped copy will then be returned to you. If your university does not have its own Certificate of Arrival document, ELTE FE will issue one for you soon after the session. The collection date will be announced.
For the best enrolment experience, please bring along an electronic device (preferably a LAPTOP). WIFI will be provided.
What to do before the session?
ELTE FE Erasmus+ and guest students: We regret that, although Neptun codes have been provided, due to a technical problem in the Neptun system, you will not be able to activate your student status (register for an active semester) and to register for your semester courses in advance. Further information on course registration will be sent by email. Please ensure that you observe the deadline in the email.
If you already know that you cannot attend the above event due to late arrival, please inform the International Office by email (incoming@gtk.elte.hu) at your earliest convenience. This will enable the coordinators to schedule an individual appointment for you.
FURTHER INFORMATION
Classes start on Monday, 27 February. You can access the Faculty timetable with your IIG here. Personalise your timetable here.
Further information on visa, travel, accommodation, academic calendar, etc. is available here (scroll down for the relevant topics) and the various sub-pages of the university web site.
ERASMUS+ STUDENTS FROM OTHER FACULTIES
You are invited to the info session part of the enrolment event hosted by the Faculty of Economics to learn about the Faculty, the courses, the classes, and especially the assessment regime, as our requirements may differ considerably from those of your host faculty. As far as your administrative tasks like activation of student status, course registration, and all other matters are concerned, please follow your host faculty's guidelines. You will not have to present your documents at ELTE FE, so please feel free arrive by 10:00 on Friday, 24 February.
Regarding course registration, you will be able to register for free places on courses offered by ELTE FE during the so-called "first-come, first-served registration period: between 17 February (16:00) and 3 March (16:00) 2023. As demand for some courses may be high, you are advised to register early.
Finally, if you have not done so yet, please complete the ELTE Faculty of Economics Incoming Application Form data sheet to allow us to contact you in the future.
See you on 24 February. Have a successful semester at ELTE FE.