Master's Programmes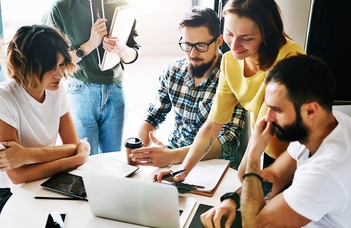 Which university to choose?
The brand of the university where you earn your master's degree may be considered as a life-long certificate about you.
Eötvös Loránd University (ELTE) is in the top 5% of higher education institutions worldwide (ARWU, 2015). ELTE is the most popular university in Hungary, nearly every fifth Hungarian applicant chooses ELTE from year to year. Most of the applicants with the best results start their studies at ELTE. 75% of the staff at ELTE has scientific qualification, which is the highest among Hungarian universities.
ELTE is an international university having extensive partnerships with 200 higher education institutions worldwide and memberships of 9 international university networks. ELTE welcomes international students from 80 countries.
Which Master's programme to choose?
Master in Management and Leadership
Specialization in Corporate Management and Organization
Specialization in Process Management
Specialization in Human Resource Management
Specialization in Management and Organizational Psychology
Specialization in Marketing Research and Communication
Master in Finance
Specialization in Investment Analysis
Specialization Finance of Multinational Corporations
Specialization in Financial Mathematics
Master in Accounting
Specialization in International Accounting and Auditing
Specialization in Accounting and Controlling
Master of Business Administration (MBA)
Specialization in Finance
Specialization in Management
Specialization in Marketing
THEORY OR PRACTICE?
Lectures at the ELTE Faculty of Economics provide you with an ideal mix of theory and practice, and our full-time students can top up these lectures with small group seminars, while part-time students can attend tutorial sessions.
On seminars, we only discuss and practice the topics covered during the lectures. There is no waste of time: lectures are straightforward and focused, while seminars focus on applications, and preparation for exams. Our goal is to provide our students an effective training that helps them reach their study goals.
During the second year of our MA programmes there are project works (for 15 credits each semesters) and a class for thesis preparation. So as the end of the programme approaches, students can not just learn but also apply the curriculum, in many cases in team work format.