Summer University – From a student's perspective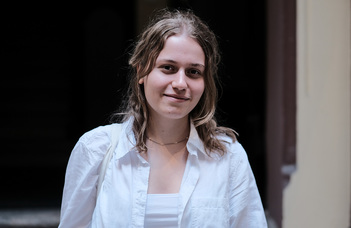 The summer university of the Faculty of Economics took place between 11 and 15 July with the participation of 20 foreign and 60 Hungarian students. The students could choose from seven courses, which were taught in English by faculty members of FE other faculties of ELTE and by professors from Poland, Germany and the United States. What is it like going to university in summer? This is clarified by Zsófia Szonja Hinek, a freshman in international economics.
– As a Hungarian student, how did it feel spending five days in an international environment?
I participated in the managerial accounting course, where I had the impression that the foreign students were not very open. However, on the welcome reception on Monday, I could get to know the other students from abroad as well, and as a result, we spent most of the time with them the following days. It was quite an experience to talk with them; we could talk about all kinds of topic, they were very open-minded and curious. Even though we were on "home ground", we also got to know new sides of the city. As none of the foreign students were in Budapest before, they went on sight-seeing tours very often and we Hungarians joined them: we showed them our favourite restaurants, the party district and went on an evening cruise on the Danube with them, where we explained the name and the function of each building. In those moments we also felt as if we were tourists. I think, we managed to make a good impression and make their staying into an adventure.
– What were the highlights of the week at BESU?
First of all, I could get to know new people, and managed to open up to them, to have great conversations and a good time together. In addition, the professors in my course gave really successful and gave easy-to-follow classes. I think, these days were my greatest experience this summer!
– If you compare the usual FE classes with the classes at BESU, what are the differences?
At BESU there were very of us in the classes, so everyone had a chance to ask questions and we could give one another the answers as well. Our instructors tried to make the presentation interactive, they often asked and called us, which is not possible at seminars with 150 people and lectures with 400-600 people. The exam was paper-based and in the classroom, not in the exam center on the Moodle interface. In managerial accounting it was also easier for us, because it was an "open book" exam, so we didn't have to learn everything by heart, and it was reassuring to be able look up what we didn't remember precisely.
It was surprising that in five days they taught us most of the material of a 6-credit subject in a completely comprehensible way. I didn't have to study a lot at home either, it was enough to set aside two hours to finish my notes and do some revision. I heard from other courses that they had to make a presentation in group work and deliver it or to write an essay. These kinds of assignments are not possible during the semester, although they provide important skills which must be learned and practiced. In the summer university we also had the opportunity to complete such tasks, and we could even acquire additional knowledge which would be difficult to learn during the year.
– Why would you recommend the summer university to your fellow students?
As I mentioned before, one of the reasons is that we can meet open-minded foreigners and gain a little insight through them into what they study in their home country and also how they view the world. There are also foreign students in most of the FE majors with English as the language of instruction, but there are no German or Belgian students, or a Japanese one, who lives in Sweden and studies to become a pilot. It was interesting, in fact, fantastic to listen and talk to them; they told us stories about their lives and asked about our life as well. We were joking a lot and formed a very good company. I would also recommend BESU because a full three-credit subject or the 2nd and 3rd midterms of a six-credit subject can be earned by the participation; furthermore, one subject of the semester can be mastered in five days! Last, but not least, it was easier to prepare for this course than for a midterm or an exam during the semester.