Summer University – as a foreigner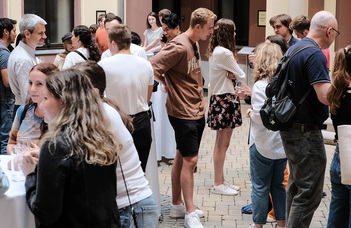 The summer university of the Faculty of Economics took place between 11 and 15 July with the participation of 20 foreign and 60 Hungarian students. The participants could choose from seven courses, which were taught in English by faculty members of FE, other faculties of ELTE and by professors from Poland, Germany, and the United States. What is it like going to university in summer, in addition in Budapest for a foreign student? This is clarified by Marth Deferm, a young participant from Belgium who joined the Comparative Development course.
– What was your motivation to join our summer school here, at the Faculty of Economics of ELTE?
I really wanted to visit a summer course this year, so I just looked up the offers my home university recommended. My wish was to go to a city where I have never been before, because I already have visited the bigger ones near to my land. Budapest and the programs of FE seemed interesting to me, so that's why I chose it.
– How were your impressions about the summer university program?
I really liked the university, the classes, I think, it was also very well organized, and everything is nice. Our tutor also made a good job however the rhythm was a bit fast for me, but in general, I think, I could catch up well.
– What was the hardest task that you had to solve during BESU?
Probably the exam, it was a lot of material with only little time to process it.
– Have your expectations been fulfilled with the participation?
Yes, the course was interesting and had been worked out very well. The only thing that I might have underestimated upon participation was the intensity of the course. As I have mentioned before, there was a lot of material on a relatively short amount of time.
– What do you think, how will the learned material help you in your future?
I don't know yet what I would like to have as a career path, so now I rather want to learn as much as possible about the world and to broaden my mind. It will definitely be a helpful tool in courses I'll be taking at university the next few years and later on in life as well, like a tool to analyse different economies. At least, this is my goal with this course at the moment.