Prof. György Andor was elected Dean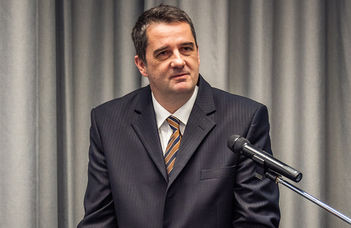 Professor György Andor was elected the first Dean of ELTE Faculty of Economics (FE). We talked to him on this special occasion.
– ELTE Institute of Business Economics (IBE) has already been considered a faculty by most people. How great of a milestone is the formation of the faculty?
In the summer of 2017, when ELTE IBE was founded, we had no students, there was only one staff member (me, to be precise) and two 'inherited' degree programmes. This could not be a proper faculty at ELTE, just a kind of a 'start-up' faculty. A year later, in autumn, we had 600 students, 50 lecturers and 8 programmes, which can be considered already substantial. As of today, most of our 10 programmes are market leaders, and our 5,000 students are served by a teaching staff of about 100 lecturers and administrative staff. Our Doctoral School is now up and running, bringing the third level of education to the table. As far as I know, never in the history of Hungarian higher education has there been such a fast-paced faculty growth. It is a little bit weird, but ELTE FE, by its formation, has instantly become one of the largest faculties in the country.
– Where does ELTE GTK stand in the rankings for the field of business education?
In the top two. When it comes to undergraduate programmes, we are the runner-up just behind Corvinus University of Budapest, however we are the leader in master's programmes. These two players currently stand out compared to the rest of the field. Both Corvinus and ELTE FE admit around 1,000 undergraduate students per year. Considering the master's programmes, however, ELTE FE clearly ranks first in terms of both the number of admissions and the number of applicants.
I should mention that for undergraduate programmes, Budapest Business School – University of Applied Sciences (BBS). has a much larger annual intake (over 2,000 students per year) compared to Corvinus and ELTE FE, but with much lower admission scores, which puts these statistics in a different light. Moreover, its Masters level education is small-scale. This is the reason why I consider them third. The high-standard business education in the rural universities of Debrecen, Szeged and Pécs are also worth mentioning. The other about 25 business schools are only next in line.
– How was it possible for ELTE to develop so rapidly and so dramatically in the field of business education?
There is a peculiar story behind this, which goes back to 2015-2016. It seems to have started from two, initially completely unconnected strands: the forces of Budapest University of Technology and Economics (BUTE), where many of the current FE tutors worked, did not want a strong business education at the time, while the leaders of ELTE were aiming to strengthen it. The two stories did not yet converge at this point, and the parties knew nothing of each other's intentions. Then, in 2016-2017, there was a year-long tough period, which has been interpreted and explained in different ways ever since by almost everyone. I honestly think that even I am unaware of some details. I would say that back then, the repelling forces of BUTE and the attracting effects of ELTE jointly drew us - about 50 of us - to ELTE, to found IBE. Both forces were necessary, but the former was clearly more powerful.
– What do you think the reason was for this?
ELTE's ambitions were rational: the largest field of education is economics, which was barely represented at the largest university in the country. It was clearly a gap to fill, as ELTE is the leader in all sciences closely connected to the field of economics.
I would love to think that there was a nearly as rational background for what happened at the other university. There were radically different university concepts floating around within the institution: we wanted a more colourful university; others wanted a more technological university with a more homogenous profile. Let us not forget that in 2016 the most rapidly growing faculty in the country, and one of the biggest within the university, was the BUTE Faculty of Economics, which was led by the current management of the ELTE FE. Our departure put an end to this trend, leaving behind a restrained faculty that is essentially subordinated to technological education. On the other hand, ELTE gained a progressive, talented, and successful leadership and academic staff, who have undeniably outshined their previous achievements and have built an incomparably stronger faculty at ELTE.
The most beautiful and extraordinary part of the story is that, even in the most difficult times, the team has always stuck together.
– Is it better that it turned out this way?
It is certainly better for ELTE, as we now add a lot to its national dominance both in terms of the number and the excellence of students. It is also beneficial for higher education in Hungary: I am convinced that thanks to the Corvinus–ELTE FE competition, the quality of business education in Hungary has never been so high. Perhaps it was also a good choice for BUTE as it could return to its original, technological roots, which makes sense in some ways. However, I – as a previous vice-rector and dean – would not have wanted such a BUTE. I personally think that the leaders rejected the concept of a much better, stronger, and more modern university. In any case, if the improvement of technological education was at least as huge as the setback in business education, then they did not come off worse. Today, we are no longer competitors, so me and many of my colleagues sincerely hope that they manage to establish a high-class technological university, which goal seems totally feasible.
– Coming back to ELTE FE, what are the next goals to achieve?
Our starting position is excellent, outgoing director Mihály Ormos, practically the former 'dean', has left the team in a very secure state. I think we are leading in terms of organisation, quality, and technical background of education. However, just as the suddenly grown teenager, we still need to grow into ourselves. We have a lot of work to do in this respect, building up our organisation, expanding our facilities, strengthening our student community – just to mention three.
The interest in our undergraduate programmes is bound to grow, we still have reserves, so we have already started to prepare for this. In the master's programmes, we will have even better service, new innovations and our doctoral programmes will be even stronger.
Finally, we have a long-term vision: we want to become the best business school embedded in a university of sciences. In other words, to form a new elite category besides the typical business schools, where the disciplines related to economics, such as psychology, informatics, mathematics, social sciences, etc., are taught by the most prestigious representatives of the field. Thereby, to train open-minded, versatile, and creative economists.
It may seem that there have been many key elements in our success so far, but in fact there was only one: our unique team spirit, which is resilient to any adversity and undoubtedly also stems from a special community based on common fate. If we can keep this spirit, our momentum will certainly take us a long way. I believe that this internal cohesion and dedication shows which is why we are beloved, supported, and cheered on by so many people, both now and in the harder times. How nice would it be to keep all of this!