Faculty starts new semester with hike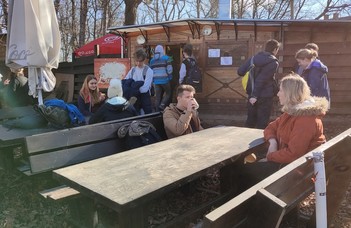 More than 70 Hungarian and international students accompanied by our Faculty's instructors and staff celebrated the start of the new semester with a hike and traditional Hungarian street food in the Buda Hills last Wednesday.
The walk from the Szépjuhászné stop on the Children's railway began with quite a steep and rather slippery rise, but all participants persevered and, after climbing through the famous Passage Cave (Átjáró-barlang), were happy to reach the highest point of the hike: the Elizabeth lookout tower (Erzsébet-kilátó) on top of János-hegy. The lookout, built in 1910, which stands at 527 meters above the city, offered a magnificent view of Budapest and the surrounding area in glorious sunshine.
After snacks and a photo call, we continued our walk to Normafa, the much-loved weekend hangout place for city dwellers. By this time most of us were ready to taste some Hungarian delicacies, including palacsinta (pancakes), rétes (strudel), and lángos, at the Normafa street food huts. In fact, for some of the international students this was the first encounter with these typical and highly filling snacks, and they were certainly taken by them. As the walk from here to the baroque church and pilgrimage place Makkosmária was quite relaxing, we had a chance to talk to old and new friends, to discuss the experiences of the autumn semester and to share our expectations for the spring semester. We passed the Donkey meadow (the name, Csacsi rét, sounds much sweeter in Hungarian!) and after a quick peek into the church took off on the last leg of our tour back to Szépjuhászné.
All in all, we covered roughly 11 km in about four hours. Students, instructors, and staff are grateful to the organisers (and the weather) for the splendid day, and we all look forward to more country walks in the future.
If you would like to recreate the trip, use this map. And if you would like to read more about previous hikes in Hungarian, or wish to join the hikers, check out the Faculty Hiking Club (GTK Túra Klub) website.
Galéria
Galéria