Start the New Semester in Style: Lunch at Normafa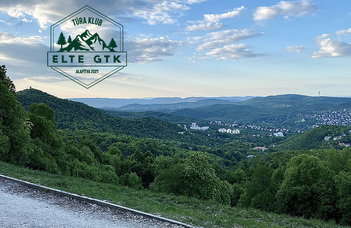 We are inviting international students to spend a day in nature meeting old and new friends, instructors, and staff, discussing the experience of the autumn semester and the expectations for the spring semester.
Route: Buda Hills round trip between Szépjuhászné and Makkosmária, visiting a lookout tower, a cave, the Donkey meadow, the famous church of Makkosmária, with lunch at Normafa. Check the map here.
Date and Time: Wednesday, 9 February 2022 (rain date: Friday, 11 February). Notice about the rain date will be given by noon on Tuesday, 8 February 2022. We leave at 10:40 a.m.
Distance: 11 km, 3-3.5 hours of easy walking, no difficult sections along the route.
Registration is required. Follow the link to register. Enter name, phone number and email.
Meeting point: Szépjuhászné Büfé/Buffet between 9:45–10:30 a.m. (Budapest, Budakeszi út/Road 97) at the Szépjuhászné stop on the Children's Railway. It can also be reached by buses 22, 22A and 222from Széll Kálmán tér/Square.
You can have a quick snack at the buffet before we start off but please make sure you do not miss the starting time at 10:40.
The walk/hike will last about 3-3.5 hours (with a lunch stop at Normafa for about 1-1.5 hours) so we will probably be back at our starting point between 15:00-15:00. Buses from there leave for Széll Kálmán tér every 5-10 minutes at that time of the day.
If you get tired or have something else to do, you can opt out of the hike at Normafa (roughly half-way through the trip). Buses 21, 21A will take you to Széll Kámán tér from there. Alternatively, after covering two thirds of the trip, you can also return to Széll Kálmán tér by taking buses 22, 22A or 222 from Budakeszi.
All Faculty members are welcome to join the hikers for lunch at Normafa at about noon. Take buses 21 or 21A to get there. There are several buffets there where you can taste various Hungarian delicacies like palacsinta (pancakes), rétes (strudel), lángos, etc. Drinks are also available there though you might bring along a flask/drink for the hike.
Practicalities:
Toilets are found at several places along the route.
Bring along a plastic bag for any waste you may have to save the environment.
Good sturdy shoes and warm clothes are recommended. Remember that it is winter, and it is chillier in the hills than in the city centre.
For the cave the flashlight on your mobile phone will suffice.
You may wish to check out the following links as well:
Contact: 30-241-7723.