"I was deeply impressed by the high competence of the participating students"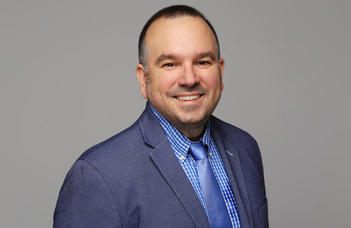 Theocharis N. Grigoriadis, teacher of
Comparative Economic Development
tells us about his carreer and current research.
– You did your PhD studies at UC Berkeley. Who was your supervisor and what was your thesis about?
I wrote my dissertation under the supervision of Gerard Roland, Professor of Economics and Political Science, at the University of California, Berkeley. My topic was on religion and political economy with focus on Russia and Israel and my thesis has been published as a book entitled Religion & Comparative Development: The Genesis of Democracy & Dictatorship by Edward Elgar Publishing in its series New Thinking in Political Economy.
– After six years in the USA, how have you returned to Europe, more specifically to Germany?
I was awarded a DAAD grant, and I had the opportunity to visit Germany as a PhD student from the United States. The experience was very positive and when I was offered a postdoc position at the Center for European Economic Research in Mannheim I decided to stay.
– Currently, you are an associate professor at the prestigious Free University of Berlin. Tell us about the courses you offer there.
My teaching portfolio includes economic growth and economic systems at the Bachelor's level and comparative development, economic history of Russia, international macroeconomics and political economics at the Master's level. I am currently designing an advanced course on comparative institutions and development to be offered for our structured doctoral program in Economics (Berlin School of Economics), which is run jointly with the Humboldt University of Berlin, Technical University of Berlin and Potsdam University.
– You also have a vivid cooperation with the University of Saint Petersburg. What is the history of this cooperation?
Leningrad State University, the predecessor of Saint Petersburg State University, became a strategic partner of the Free University of Berlin in the late sixties, when the rise of a West German Ostpolitik facilitated East-West contacts. My academic ties to Saint Petersburg University now expand toward the creation of a double Master's degree in Economic Systems between the two universities.
– Which was your most exciting research in the recent years?
Our paper with Prof. Dombi and Prof. Zhu from Henan University, China, offers unique insights and a robust methodological apparatus for the role of antiquity on the emergence of modern capitalism and the finance-growth nexus. As the influence of comparative archaeology and data from ancient societies becomes increasingly important for our understanding of contemporary societies, our joint research constitutes a path-breaking endeavour that connects finance to comparative development in historical perspective.
– You already offered a course – in collaboration with Prof. Dombi – in the Summer University of the Faculty of Economics at ELTE in 2019. What were your experience about the Summer Uni and the participating students that time?
As it has been indicated above, with Prof. Dombi we share a lot of common research interests and exciting ideas. In 2019, I was deeply impressed by the organization of the Summer Uni and the high competence of the participating students. This is why I accepted immediately Prof. Dombi's invitation to join the Summer Uni in 2022.