Have you ever been to Budapest?
The city you have to visit at least once in a lifetime!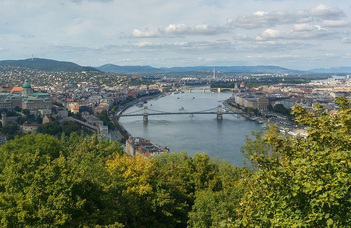 Budapest, the capital of Hungary, is considered to be one of the most colorful and lively cultural, political, commercial and industrial centers in Central-Eastern Europe. It is a popular destination for numerous tourists arriving from all parts of the planet, eager for adventurous discoveries and sightseeing. This article focuses on the major attractions and marvelous locations around the campus.
Hungarian National Museum
First of all, the Hungarian National Museum is a no. 1 place to visit in Budapest. It conserves our ancestors' heritage in a classicist building designed by Mihály Pollack. The first exhibitions were organized in 1846, since then hundreds of them have been entertaining the culture-oriented tourists and also local citizens willing to increase their knowledge. The museum is also a significant historical point: it is here that the 12 points of the Hungarian Revolutionaries, establishing constitutional democracy, were declared on 15 March 1848. Choose from a wide variety of permanent and temporary exhibitions, and find out about the turning points of Hungarian history! Do not forget to claim your student discount!
Location: 1088 Budapest, Múzeum krt. 14-16.
Rating: 5/4 (source: www.tripadvisor.com)
Castle Garden
Castle Garden, located at the foot of Castle Hill on the Buda side, can easily be reached by public transportation. A cultural center complete with a garden is Budapest's extraordinary jewelry box: a site which offers historical knowledge, cultural experience and an experience of natural beauty. You'll surely find something to your liking from the wide variety of concerts, exhibitions, thematic tours, opera broadcasts and other events. You must take a look at the neo-renaissance garden, taste some incredibly delicious meals in the restaurant, or just grab a steaming coffee to make yourself comfortable during your visit.
Location: 1013 Budapest, Ybl Miklós tér 2-6.
Rating: 5/4,5 (source: www.tripadvisor.com)
Deák Ferenc Square
Deák Ferenc Square, the meeting point of three out of four metro lines, three streetcar lines and so many bus lines that I got lost counting, is a transportation center that is very easy to reach from campus. It connects Károly Blvd, Király Street and the well-known Fashion Street (Deák Ferenc Street). It is a perfect spot to meet people: Akvárium Club and the huge green space surrounding the square attracts plenty of university students and youth willing to chill out and relax in the open air. Passing by cozy cafés, prestigious restaurants, crowded pubs and discos satisfying lovers of all several music genres from reggaeton to hip-hop guarantee to make your nightlife adventurous and spectacular.
Rating: 5/4 (source: www.tripadvisor.com)
Kossuth Lajos Square
It is time to turn to politically important monuments. It is not by chance that this square is named after Lajos Kossuth: a statesman serving as a governor-president in the revolutionary government of 1848-49. The is the site of the Hungarian Parliament, where most of the crucial decisions are made. The second largest parliament building in Europe, it was built in Gothic Revival style from Imre Steindl architect's plans. Inside the enormous building you may take part a guided tour and have the chance to see the Holy Crown, the great ornamental stairs, the Parliamentary Library, and the paintings of Mihály Munkácsi, the first internationally acknowledged Hungarian painter.
It has a unique location, since the river Danube is only a few steps away. See the numerous pleasure boats crossing the river, enjoy the remarkable panorama and take a look at Buda side and all the bridges that connect the two parts of the city.
Rating: 5/4 (source: www.tripadvisor.com)
Óbuda Island – Sziget Festival
We all know that being a university student is a particular experience. There's no better place for having a gorgeous party in Budapest than the Sziget (= the Island), one of Europe's largest and best-liked annual music festivals. In 2011 it was the No. 1 festival based on Europe's opinion research. Last year the 530 000 visitors could meet Ed Sheeran, Macklemore, Post Melone, Twenty One Pilots and Martin Garrix and others: all the trendsetting musicians with millions of followers worldwide. You may move in on Óbuda Island for a week because you'll find anything you need, ATMs, restaurants, emergency care, luggage storage and childcare points, post offices, pharmacies. Come and join this event in August! Tickets are available, rent your camping site now!
Location: Budapest, Óbuda Island
Rating: 5/5 (source: www.tripadvisor.com)
National Theatre
The National Theatre's aim is to honor the interpreters of the Hungarian and universal drama literature and theater art. The first play produced here was Imre Madách's The Tragedy of Man that has gained international fame by its disturbing questions about the fate of humanity that still remain unanswered in the 21st century. The building was designed to evoke the idea of a ship rocking on the Danube. With its four stages it is more like a theatrical center than a single theater. No problem if you do not speak Hungarian: English subtitles are available for some plays.
Location: 1095 Budapest, Bajor Gizi park 1.
Rating: 5/4 (source: www.tripadvisor.com)
Do you need company to discover all these places? Request for an ESN Mentor who is willing to provide you with support and guidance during your stay. Email at gti@esnelte.hu.