ELTE Institute of Business Economics opened its gates to students from abroad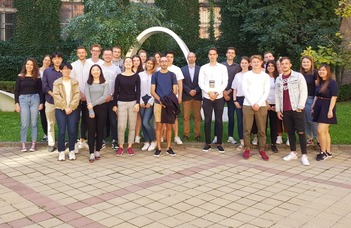 Some come from our Erasmus-partner universities, or different bilateral programs, and some start their degree programs with us. Our Institute organized an orientation to welcome and help the foreign students.
Firstly, Professor Gábor Zemplén discussed the most important issues concerning the upcoming semester, then members of our Students' Union (HÖK), Balázs Móna and Márk Madai talked about the importance of the Erasmus program. Last but not least the students created their own Neptun-account and put together their timetable with the help of our mentors.
During the break Anna Horváth had the opportunity to talk with some of our guests, and they were happy to talk about their aims and first impressions.
Coming from Italy, Annamaria was very interested in Hungary. In a warm, open atmosphere, we immediately started to chit-chat, and she told me that she looks forward to this semester.
So where did you hear from ELTE?
I heard so many good things from students of my school. They came to Budapest to study, and were utterly satisfied with their experiences. Thus I decided to take a chance and start this semester here.
I saw that you chose international business economics. Why?
Because in Italy I study economics and international marketing and I chose courses which I can make accepted in my own faculty in Italy.
And how do you like Budapest so far?
Well, I've arrived just a few days ago, but the beauty of the city captured me immediately. I can't wait to visit more places and wander around the city.
And do you see differences between your culture and ours? What was surprising or shocking for you in connection with the Hungarian culture or the people?
Well of course there are many differences … I was surprised that people are welcoming and friendly, as you know in Italy we are really open and sometimes we may outreach our boundaries, but here it was not a problem to start a conversation with someone or hug a new friend. I'm really happy that I've moved to not only a beautiful and historically meaningful city, but a city full of kind and warm-hearted people.
Alena, a German girl was one of the first students who succesfully created her Neptun account and was utterly happy when I asked her about her experiences.
First of all I hope you like it here…
Yes, thank you, I came four days ago, and even though it's quite a short time I can say that I am already full of experiences, and how far we are from the end…
And what do you think about our university? What was your first thought about it?
Well I think the word supportive is what really describes the atmosphere. They explain everything and I'm really grateful for that because it's really not easy to come here, not to mention using these websites.
And which courses would you like to visit?
I'm not sure yet, as you see I have quite a list here, I really have to think it through and see what I can do and what I am capable of.
And what do you think about our mentors?
I love that they are really helpful, I believe it can be very stressful to help so many students who speak different languages and who can't understand everything for the first time, but they are really kind, helpful and know what they are doing. I wouldn't call them mentors, I'd rather call them friends.
Priscilla and Nick were sitting together chatting when I attacked them with my questions, and after a few minutes we couldn't stop talking.
Where are you from guys?
P: I'm from Singapore.
N: I'm coming from Germany.
And why did you choose Hungary and our Institute?
P: A friend of mine came here to study at ELTE, and the way she talked about this university made me feel eager to get to know this city and this culture, the school, and the language. I fell in love with this city.
N: I've actually never been to Hungary before, but my friends were and they told me really cool stuff about the country. When I saw that we have an Erasmus partnership with your school, I thought "Hey, why not? This will be awesome."
And which courses are you the most excited about?
P: Well, I'm excited mostly because of the general Hungarian course. I adore learning new languages and I was like 'well, Hungarian is really interesting and seems to be a bit hard too', but after speaking approximately ten languages I hope I can master this as well.
N: I'm looking forward to Economics and Basics of Psychology, because I've read their descriptions and they are really promising.
And do you see any significant differences between your culture and ours?
P: As I see Hungarian people are really helpful, but they also have this kind of laid-back attitude, I haven't really seen someone being stressed out because of a program, you just go with the flow.
N: Being almost neighbours I can't really see many differences, maybe as Priscilla said you are more laid-back and open than us.
---
I hope all of our guests will find what they came for, and soon we won't call them guests, but friends. Good luck with the semester guys!