ELTE IBE presents you its new campus: welcome on board!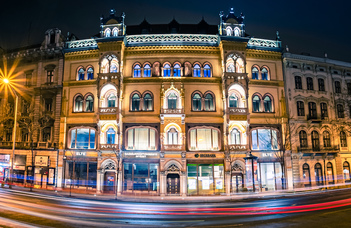 Our Institute does not merely offer high standard education, it does that in an incredibly modern and beautiful environment. Welcome to our brand new headquarter, which opened just last week. It is located at 7 Rákóczi Street, next door to the campus of the Humanities School, at tube station Astoria, in the very center of Budapest.
Building Q, as it is called, caters for all needs of our community: the professors and currently 2000 strong student body. Do you have any queries? Visit the first floor where you can ask for direct assistance and get helpful guidance from the representatives of International Student Office.
The four-story building has ten lecture rooms equipped with up to date educational technology, and also offers comfortable spots to learn or to relax between the classes. Hungry or thirsty? You may grab a sandwich or a coffee or something more sophisticated in the refreshment room downstairs.
"It makes me feel as if I were in Hogwarts" – said one of our professors. This statement stands up absolutely well: Building Q is a truly magical environment with interesting spaces and surprising layout. Most lectures halls are on the first and the third floor, whereas the second and the fourth floor host mainly the professors' offices. No need to take a long walk to consult with a professor.
We are convinced that this marvelous HQ will help building a cohesive community, which provides a great opportunity to improve our professional skills, make profitable connections and to obtain a prestigious diploma that serves as a strong basis for starting a fruitful career both on the national and the international scene.
BESU, Business Economics Summer University, offers an exceptional chance to get a taste of the alluring atmosphere and to experience the outstanding educational environment that will encourage you to stay more… How about a whole semester?
Now get ready to see a collection of stunning pictures of this fascinating building!
Gallery
Gallery