ELTE FE is proud to announce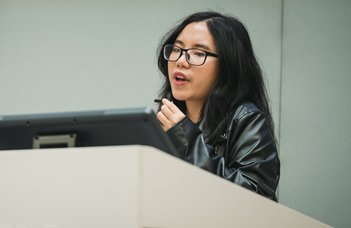 At the start of the autumn semester employees and students of the Faculty of Economics (FE) received prestigious recognitions. We are proud to announce the successes of our International Student Coordinator, Enikő Siklósi and our international student, Hoang Nguyen Khanh An.
ELTE Faculty of Economics: a Dynamically Developing Faculty, with one of "ELTE's Best Erasmus+ Coordinators"
Based on the quality of their work, three applicants shared the second place in the annually organised "ELTE's Best Erasmus+ Coordinator" competition in Spring 2022. One of them was Enikő Siklósi, International Student Coordinator at ELTE FE, who received the award at the Opening Ceremony of ELTE's Orientation Week at the beginning of the 2022-23 academic year.
According to the laudation, Enikő, "despite her relatively new position, managed to outstandingly adapt to the challenges of the dynamically growing numbers of the young faculty". The awardees were selected by a committee based on their work, such as their contribution to the extension of Erasmus+ partnerships, their knowledge of the processes of Erasmus+ mobility from application to completion. Recommendations were also taken into consideration in the selection process.
Besides the "Best Erasmus+ coordinators", ELTE also awards the most dynamically developing faculty every year. ELTE FE values the feedback of its students and continuously works on the improvement of its services, which resulted in the Faculty achieving the third place in this competition.
If you would like to share your experience with us, we are more than happy to receive feedback from you. If you have questions, contact us by email. Students are also welcome to visit our Office during office hours.
Faculty of Economics Student Wins Stipendium Hungaricum Student Excellence Award
Hoang Nguyen Khanh An, one of our international students was among the top three students of ELTE to be granted the Stipendium Hungaricum Student Excellence Award at the beginning of October.
The Stipendium Hungaricum Excellence Award is a prestigious award given by Tempus Public Foundation. The selection criteria include both academic achievements and participation in social activities within and outside the university framework, and it is granted to a very limited number of students.
Khanh An was awarded for her active involvement in ELTE's student network as a SH mentor and International Student Ambassador. Besides, she participated in a research programme for youth organised in Vietnam, her home country, and was the co-author of an article about youth career orientation.
The recipients of the Excellence Award will participate in interviews and programmes organized by Tempus Public Foundation in October and November.
We congratulate Khanh An on this achievement and hope that more FE students earn the same recognition in the future.
Faculty of Economics Student's Speech at the Opening Ceremony of ELTE's International Orientation Week
Our Faculty of Economics (FE) student delivered a speech at the Opening Ceremony of ELTE's Orientation Week for international students at the beginning of the 2022-23 academic year.
As ELTE's International Student Ambassador, Hoang Nguyen Khanh An has had a chance to give inspirational messages and useful advice to new international students. On this occasion, Khanh An began by telling her personal story as a student of the Faculty of Economics during the pandemic, and how she received support from faculty members. She then expressed her desire to improve ELTE's the support system through academic and social activities.
According to her, "getting familiar with a new environment has never been an easy task for international students. But do not worry because ELTE and the Faculty of Economics always pay special attention to your needs. Turn to us anytime if you encounter a problem, and we will try our best to support you."
We also hope that Khanh An continues to contribute to both our faculty and our university and to motivate more students to engage in student activities.
Vietnam – Hungary Diplomatic Event
Our faculty representatives were invited to a ceremony held by the Embassy of Social Republic of Vietnam in mid-August this year, which celebrated the National Days of Hungary and Vietnam, and which was designed to strengthen the diplomatic relationship between the two countries.
Our student, Hoang Nguyen Khanh An, also participated in the ceremony as a volunteer of the Vietnamese Embassy. Together with other Vietnamese students, she welcomed the guests and gave a performance of Vietnamese dance in traditional Vietnamese attire.
Vietnam and Hungary have had a long history of social, economic, and academic cooperation. Every year, Hungary welcomes almost 200 students from Vietnam under the Stipendium Hungaricum Scholarship. The Faculty of Economics is popular among young Vietnamese students and their number increased significantly in the last two years.
We are proud that our students participate in such a prestigious event celebrating the excellent relationship between the two countries. We hope that the relationship between Vietnam and Hungary continues to strengthen in the future, and more students can be part of our future joint programmes.
Faculty of Economics Participates in ELTE FESZT
On October 14, the Faculty of Economics (FE) participated in ELTE FESZT, the Open Day for secondary school pupils. This is a very important occasion that helps strengthen the ties between ELTE faculties and prospective students. Dr Tihamér Margitay (dean and professor), Dr Benedek Láng (professor), and two students, Hoang Nguyen Khanh An, and Liliána Fazekas, represented our Faculty and gave presentations at the event.
The professors first introduced students to ELTE's Faculty of Economics, its programmes and activities. Then Khanh An and Liliána talked in more details about their ELTE FE experience and offered some advice to future students.
This is the first year that students have participated in ELTE FESZT as co-hosts of our Faculty. They called the participants' attention to the community spirit between teachers and students at the Faculty of Economics. Having students, especially a foreign student, represent us, emphasises the diversity and integrational efforts of our Faculty.
The presentations attracted more participants than ever interested in studying at ELTE FE. We hope that in the upcoming years, our Faculty can welcome more ideas and initiatives from its students, especially international ones, to participate in ELTE FESZT.