BGA Representative's Visit and Presentation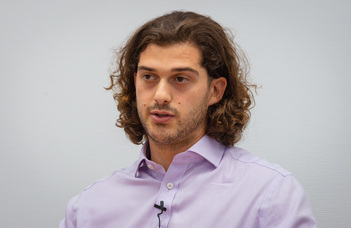 Ben Maheson, the Membership Account Manager of
Business Graduates Association (BGA)
, paid a short visit to ELTE Faculty of Economics (ELTE FE) on Thursday, 28 April 2022.
After meeting the International Team and discussing the latest developments regarding ELTE FE's membership (including, for example, the publication of an interview with the Vice-Dean for International Affairs, Gábor Zemplén and the Director of Foreign Affairs, Judit Fortvingler in the May-July 2022 issue of BGA's Business Impact magazine, as well as the publication of an article entitled "Fuzzy set theory and fuzzy logic in management" by ELTE FE Associate Professor, Tamás Jónás in BGA's online Business Impact magazine), Ben gave a presentation to a lively crowd of over 120 students.
He briefly introduced BGA and explained the advantages of joining the BGA international community for students. He noted that since ELTE FE becoming a member of the Association in 2021, nearly 150 ELTE FE students and graduates have already signed up for free membership.
Benefits for students and alumni include free access to the Career Development Centre (with CV building services, jobs search, skill assessments, etc.), professional development webinars, social and learning events, the BGA book club and BGA's very own Business Impact magazine, not to mention the BGA badge and certificate, available at a discounted price, which undoubtedly look attractive in the eyes of future employers all over the world.
Join here today and enjoy what BGA offers you free of charge.
Check out Ben's presentation here.