5 wallet-friendly restaurants in Budapest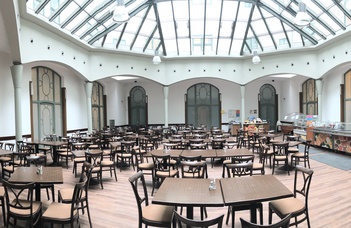 As a university student, everybody knows the struggle of grabbing a bite while rushing to your next class. While the delicious sandwiches offered by the buffets can be an easy and quick solution between two lectures, it is a well-known fact that there's nothing compared to a warm and nutritious meal for lunch. As Budapest is a big city, you can stumble across a McDonald's or Burger King on every corner, but if you don't want your cheat day to become a "cheat week", we're here to help! In this article – based on the favorite choices of our students – we have collected 5 budget friendly restaurants near the University for you to try.
1. Aula
Location: Budapest, Rákóczi út 5. (at the University)
Price: 1050-1150 HUF (daily menu)
Google rating: 4.0
Aula cafeteria provides a big variety of delicious dishes to choose from for the students who are learning at ELTE as it is located in one of the university's buildings – in Building R specifically. You can pick from the wide range of soups, main courses, salads and desserts, while for a cheaper price you can select from the two daily menus. The cafeteria is open only between 11:00 and 15:00, so be there on time if you don't want to miss a warm meal.
2. PASTA
Location: Budapest, Kálvin tér 2. (7 mins walk)
Price: 1300 HUF
Google rating: 4.6
Are you having a tight schedule or always running errands? Do you find it difficult to squeeze in a lunch break into your busy day? No problem! PASTA – with its portable lunchboxes – is a grab&go kind of a restaurant, enabling you to enjoy your meal on your way. It offers its guests 4 different types of pasta every day, making it almost impossible to get bored with the place. Along the traditional Italian harmony of tomato sauce, mozzarella and basil, you can experiment with the exotic flavors of coconut milk, curry and almond.
3. Belvárosi Disznótoros
Location: Budapest, Károlyi utca 17. (6 mins walk)
Price: ~1500 HUF
Google rating: 4.6
Belvárosi Disznótoros presents perfectly the Hungarian cuisine with its meet-lover dishes, so if you're eager to get a taste of the local gastronomy, you should definitely pay a visit! Here you'll have a chance to try the typical Hungarian sausages and the famous mangalica (a special kind of pork) speciality. The restaurant also sells grilled, fried and roasted dishes including pork, chicken, duck, fish and vegetables, so everybody can find something according to their taste.
4. Rukkola
Location: Budapest, Baross u. 1. (8 mins walk)
Price: ~1500 HUF
Google rating: 4.4
If you rather have an appetite for a light but also filling lunch, Rukkola is your place! This salad bar has the whole range of colors on their menu: blue, white, gold, pink, just to name a few. Would you like to bring a little sunshine to a rainy day? Yellow salad will do the trick! You're feeling extra elegant today? Burgundy salad is your go-to. These refreshing meals, the sandwiches, smoothies and other beverages are recommended for all guests, as vegetarian and non-vegetarian options are also provided.
5. Bors Gasztrobár
Location: Budapest, Kazinczy u. 10
Price: ~1000 HUF
Google rating: 4.8
We're not lying, when we say that there's no other restaurant like Bors Gasztrobár. From its friendly atmosphere and outstanding service to their creative meals, everything is unique here! They give new meaning to the ordinary foods by creating unusual flavor compositions no one would ever think of. Their no. 1 sandwich contains rosemary and red onion jam, spicy chicken breast and emmental cheese. In addition to baguettes and pastas, they also offer warm, cold, salty and also sweet soups to try: wasabi green pea soup, spaghetti bolognese soup, strawberry cheesecake soup and the hungaricum based Túró Rudi soup are all on their exceptional menu. If you want an extraordinary gastronomical experience, don't hesitate and visit Bors Gasztrobár.