ELTE FE Hiking Club: Spring Offers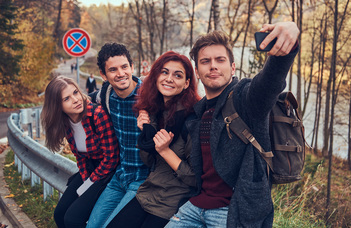 Did you know that the Faculty of Economics has a Hiking Club? If not, then this is the time for you to join its devoted members (students and staff) on some trips during the spring semester.
Below you will find the destinations and the dates to allow you to organise your other activities around these events. Our trips will take you to places in and around Budapest and are mostly no longer than 10-15 km.
In April, we will also embark on a new venture: the afternoon walks. These will take to lovely places in nature after your classes.
Our popular activities like country walking/hiking and cycling will be complemented by innovative actions, such as boating activities (kayaking and canoeing) and kettle cooking this semester. And, of course, our well-established "test your courage" night hike will also take place in May.
Further information on the various events will be posted on the website later in the semester, and you can also sign up for more information below.
Let us now see the events one by one:
Thursday, 23 February: Lunch at Normafa
A hop-on, hop-off style hike with a large number of participants to welcome spring and the spring semester. Spend time in nature and taste various Hungarian delicacies like palacsinta (pancakes), rétes (strudel), and lángos.
Route: Buda Hills round trip between Szépjuhászné and Makkosmária, visiting a lookout tower, a cave, the Donkey meadow, the famous church of Makkosmária. Lunch options at Normafa.
Read last year's report and check the route in advance.
---
Wednesday, 15 March (national holiday): Labyrinth hike to the Jenga lookout tower
The Labyrinth route in the Pilis Hills woods Map
Links with photos and a tour description in Hungarian:
---
Weekly April Afternoon Walks
Easy (2-3-hour) afternoon-early evening walks in the hilly parts of the city
---
30 April - 1 May (Sunday-Monday, holiday): A glimpse into the world of "Endurance Hikes"
The University Athletic Club's (BEAC) biggest event is the "Yellow Achievement (Endurance) Hike". On the 70 km yellow marked hiking trail from Esztergom to Budaörs, participants can volunteer to cover sections of their own choice. For the first time in its history, ELTE FE is going to run a team on a shorter, 20-30 km section, and those who do not want to walk can run a stamping station.
---
11-12 May (Thursday-Friday) "Test your Courage" night hike
Initiation night hike when you do not need to worry about your classes on Friday as 12 May is "Pázmány day" with no teaching at all. Route
Links in Hungarian:
---
Sunday, 18 June: First Ever Boating Event
ELTE's water sports centre, directly on the river bank next to the Soroksár fork of the Danube, is the ideal place to unwind and have fun as a faculty. Canoes and kayaks will be available for rent. Meet a Hungarian kayaking world champion and try the best kettle-cooked meal we can offer.
---
Saturday, 18 July: Cycle tour from Budapest to Etyek (and back)
Cycle and taste the excellent wines of the Etyek-Buda region. It was a success last year. Why not do it again?
---
You will be asked to register in advance to check interest in the individual events. Register
here
to receive further information.